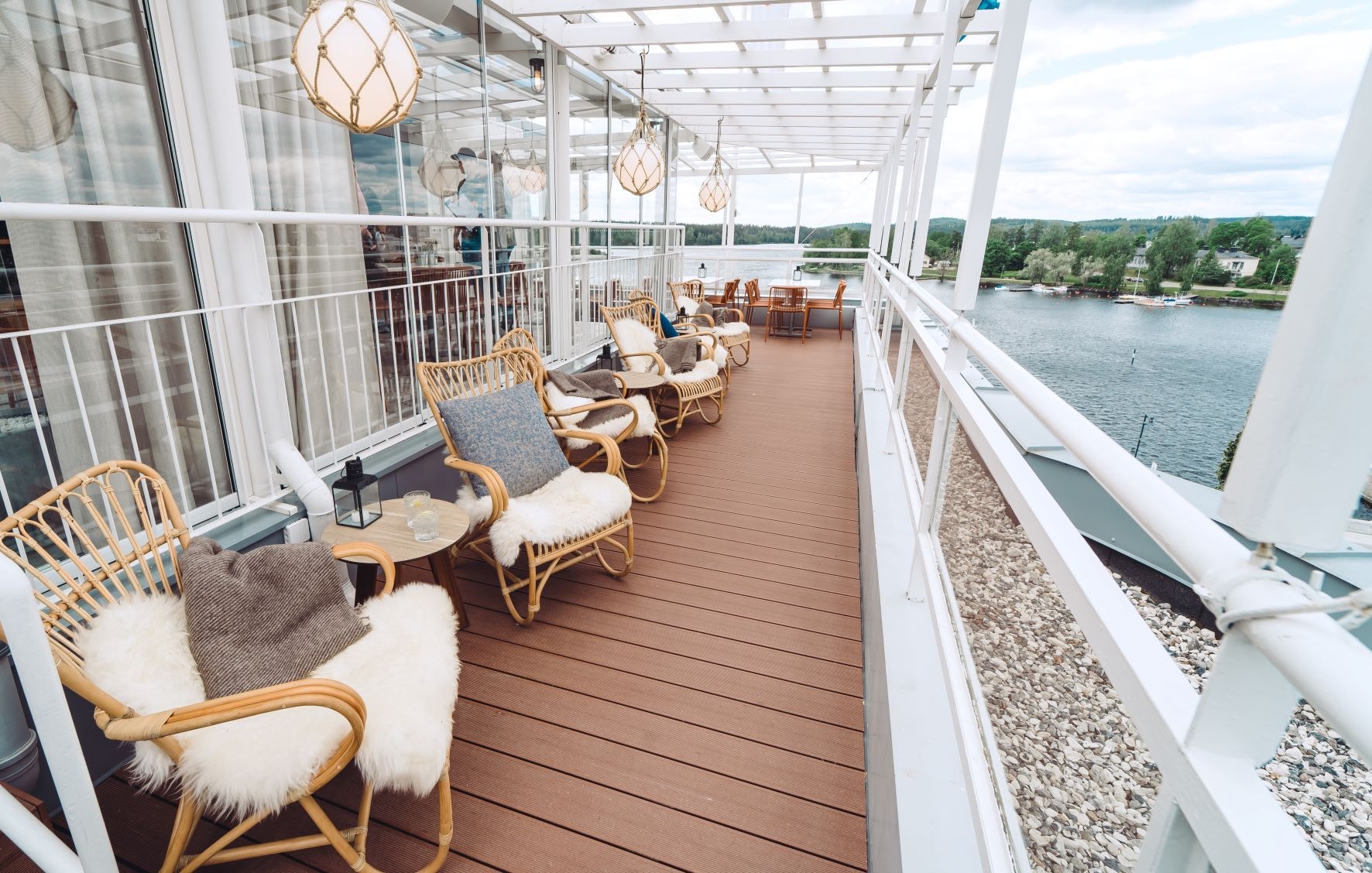 Roof-top terrace with view over Lake Saimaa
MUIKKUTERASSI IS CLOSED FOR SEASON 2023.
See you next year!
Muikkuterassi (vendace terrace)
A fabulous roof-top terrace with a view over Lake Saimaa!
"This building has housed a cooperative since the Second World War, although it became a Sokos Hotel only in 2012. The hotel's speciality is its world-renowned vendace restaurant, Muikkuterassi, which opened in 1989. There you can eat, drink or just admire life in the harbour. If you are lucky, you may even spot a Saimaa seal."
We look forward to welcoming you here!
Eastern Finland's most impressive roof-top terrace on the 5th floor of Original Sokos Hotel Seurahuone has a magnificent view over Lake Saimaa and is a definite MUST-SEE destination in the summer!
Come and enjoy the locally caught crispy fried vendace with summery drinks. We also serve a variety of mocktails and other beverages.
In addition to vendace, our menu includes other great dishes from snacks to substantial meals. Children have their own menu. The decor is bright and smart, cosy and modern.
The glazed terrace offers a great place for enjoying a meal even on cooler days. Witnessing a sunset in the striking lake scenery is a moment to cherish on a summer night. Muikkuterassi's private cabinet accommodates a group of 12 people for meetings, food or celebrations.
Follow Muikkuterassi on social media (Facebook and Instagram), and you will be the first to know of our events!
We do not take individual table reservations; we serve customers in the order of arrival.
Follow Muikkuterassi in social media (Facebook and Instagram) and you will be the first to know of our events!
Group booking: Sales office, tel. +358 10 764 2000 (0,0835 €/call + 0,1209 €/min) or email: sales.suur-savo@sok.fi
Muikkuterassi
Monday: Closed
Kitchen: Closed
Tuesday: Closed
Kitchen: Closed
Kauppatori 4-6, 57130 Savonlinna
map
contact information
Kauppatori 4-6
Savonlinna
map
Muikkuterassi sulkee ovensa 2.9 2023. Nähdään kesällä 2024!