Menu
We recommend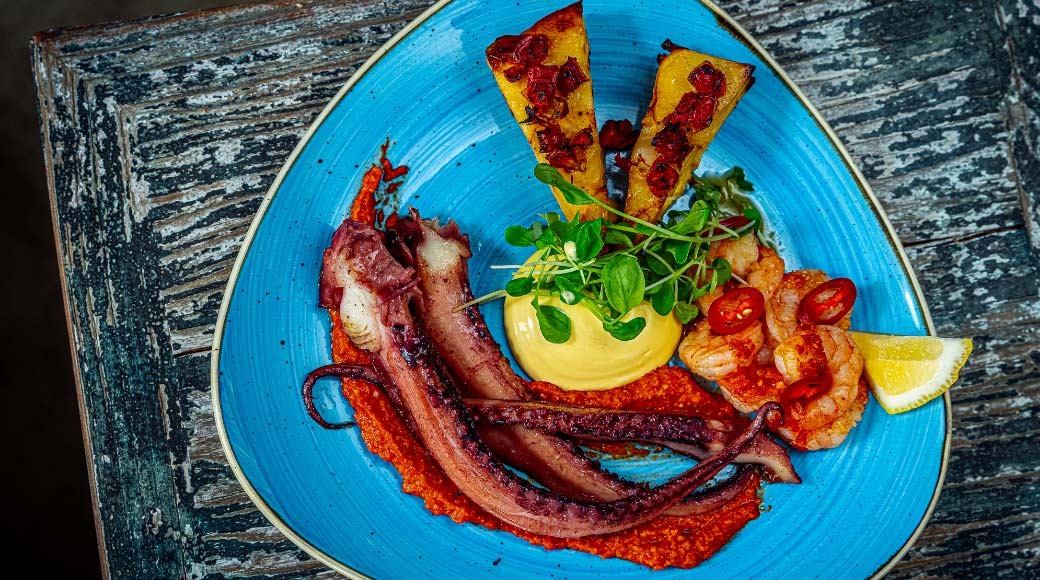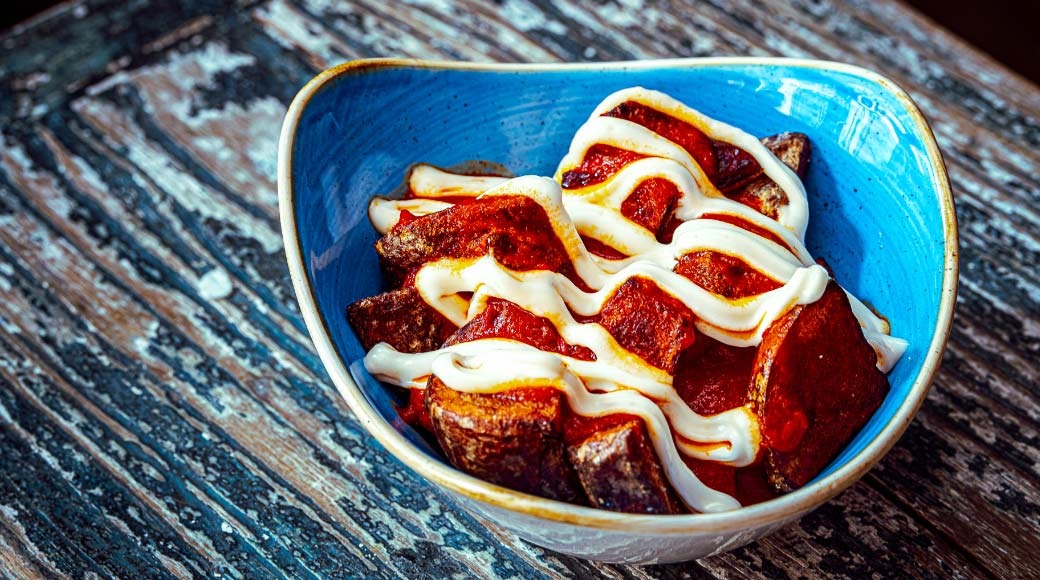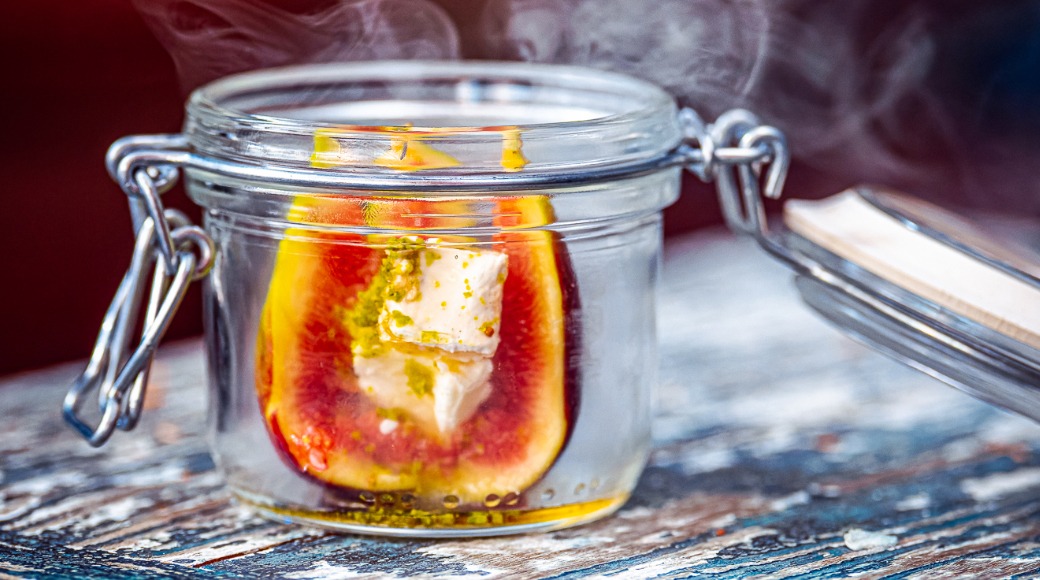 QUESO DE CABRA AHUMADO E HIGO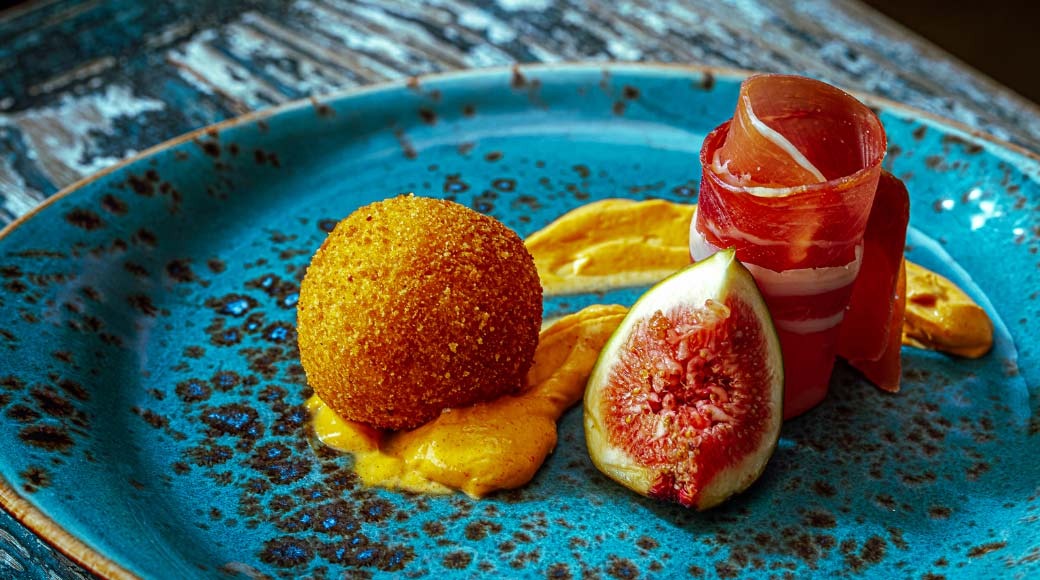 CROQUETA DE MAÍZ Y QUESO MANCHEGO CON JAMÓN SERRANO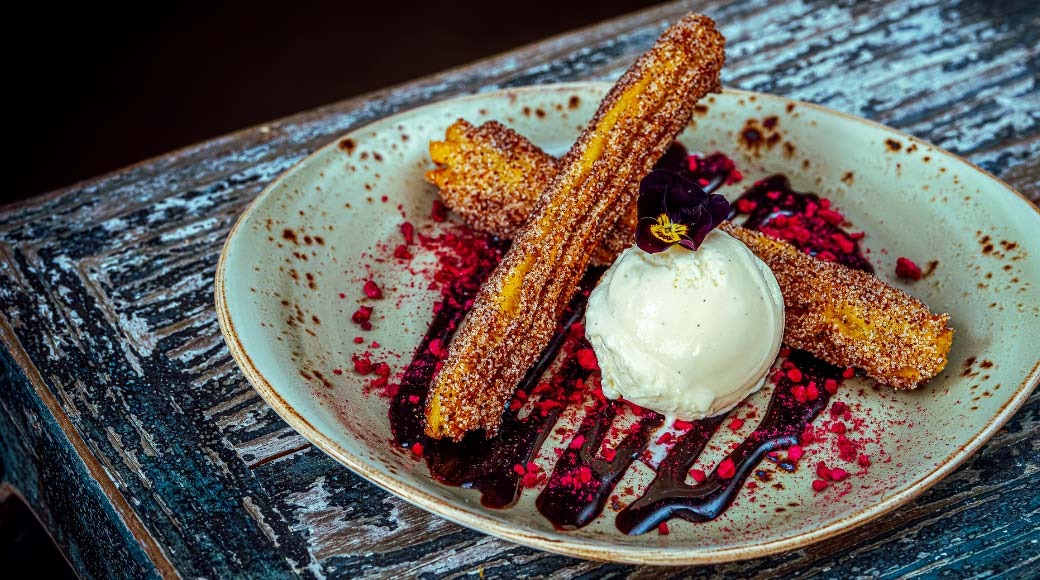 Tapas Assortments
Fried avocado and aioli, fried champignons with herbs, manchego-corn croquette, smoked goat cheese, fig, honey, pistachios and romesco-sauce

Garlic and chili roasted scampi, octopus and romesco-sauce, Tapas Barcelona´s tortilla, sofrito and lemon-saffron mayonnaise

Garlic and chili roasted chicken, marinated meatballs, lemon-saffron mayonnaise, fried small potatoes, bravas-sauce, aioli and smoky chili creme

Tapas
Olives marinated with herbs and chili (may contain olive pits)

Roasted bread, tomato sauce and grated manchego cheese. Can be made gluten-free.

Fried small potatoes, bravas-sauce and aioli

Tapas Barcelona's potato tortilla, sofrito and aioli

QUESO DE CABRA AHUMADO E HIGO
Smoked goat cheese, fig, honey and pistachios

CROQUETA DE MAÍZ Y QUESO MANCHEGO CON CHAMPIÑONES
Manchego-corn croquette, baked herb marinated champignons and romesco-sauce

Spanish cheeses and fig three ways

Fried goat cheese with jammed tomatoes

CROQUETA DE MAÍZ Y QUESO MANCHEGO CON JAMÓN SERRANO
Manchego- corn croquette, serrano ham and smoky chili-creme

Marinated meatballs and smoky chili creme

Garlic and chili roasted chicken and lemon-saffron mayonnaise

Baked octopus, romesco-sauce and lemon-saffron mayonnaise

Scampi fried with garlic and chili

El Chef Recomienda
Fetajuustoa, vesimelonia ja tuorekurkkua

COSTILLA DE CERDO SAZONADO
Ylikypsää porsaankylkeä, hernepyreetä ja pikkelöityä fenkolia

Postres
SORBETE DE FRAMBUESA Y CAVA
Fresh raspberry sorbet and 4cl of cava

Homemade churros with sugar-cinnamon, vanilla ice cream and chocolate sauce

Lime-cinnamon pudding and marinated strawberries

LL = low-lactose, L = lactose-free, G = gluten-free, VN = vegan, S = spicy hot, M = milk free, V = vegetarian dish, N = contains nuts. Please ask our staff for more information on dishes.