Presidentti's Centenary menus are now available for meetings and events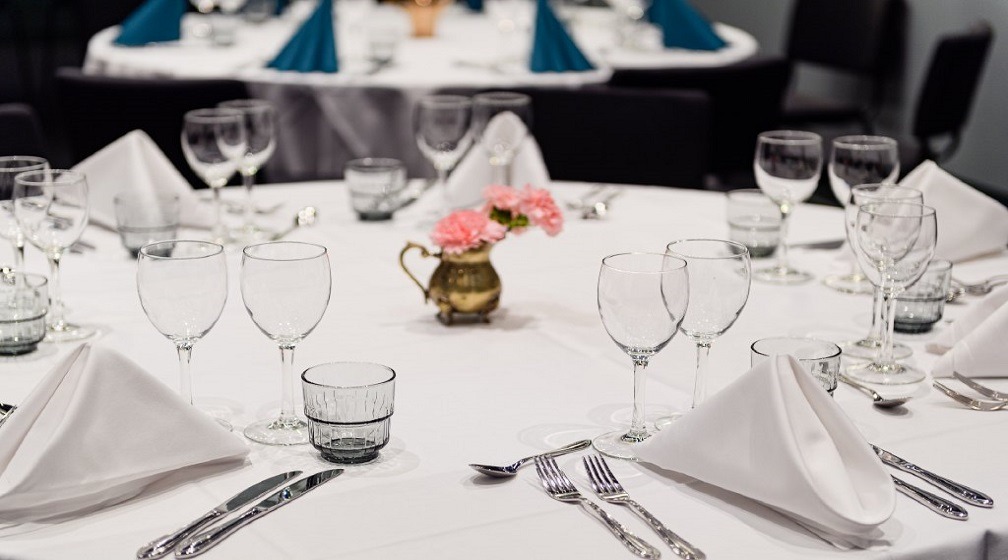 PRESIDENTTI'S CENTENARY MENUS CAN NOW BE RESERVED FOR 2022 EVENTS! Renewed Original Sokos Hotel Presidentti offers personal and valuable setting for meetings, events and celebrations of all sizes. This is where precious history and luxury meet today's freshness.
Original Sokos Hotel Presidentti takes you back a hundred years to the happy roaring 1920s, to an era of swinging fringe dresses and hot jazz. Our centenary menu takes after this famous decade – with a modern twist, of course. We wish you a night to remember!
Menus served to the table
STÅHLBERG'S MENU
Fish platter:
Blackened salmon, Charcoal-charred Baltic herring, whitefish tartare, dill mayonnaise, smoked perch, pickled root vegetables and malted rye bread L
Roast duck, Calvados and rowanberry sauce, warm root vegetable salad and potato cake LL, G
Lingonberry parfait, soft caramel sauce and oat chips L, G
€67,30
RITOLA'S MENU
Cold-smoked pike tartare, mixed shoot salad, roe and pickled vegetables L, G
Jerusalem artichoke soup, root vegetable chips and truffle oil L, G
Beef fillet, cognac sauce, bacon beans and Parmesan potatoes L, G
Cranberry and chocolate cake L, G, N
Vanilla-flavoured sour cream
€73,80 (with one starter: €67,30)
NURMI'S MENU
Cold-smoked reindeer mousse, sourdough rye bread, mixed shoot salad and lingonberry mayonnaise L
Finnish fried whitefish, roasted pumpkin and potato puree, crispy kale and lovage-seasoned butter sauce L
Sea buckthorn panna cotta with raspberries L, G
€56,40
Menus served from buffet
RELANDER'S AMERICAN BUFFET
Louisiana chicken with fruit L, G
Whitefish ceviche L, G
Chili-marinated king prawns with peanut L, G, N
Green salad with passionfruit and citrus vinaigrette L, G
Caesar salad L, G
Waldorf salad L, G
Potato and caper salad L, G
Garlic and corn bread L
BBQ-glazed slow-cooked pork belly L, G
Cajun-flavoured salmon L, G
Crushed sweet potato with roasted bell pepper and courgette L, G
Corn and tomato salsa L, G
Caramel and nut brownies with toasted marshmallows
Lemon and meringue pie with meringue
€59,70
EUROPEAN BUFFET
Green salad and traditional mustard dressing L, G
Potato salad and eggs L, G
Crayfish and spinach salad L, G
Cold-smoked salmon with lemon and dill smetana L, G
Smoked Baltic herring, old-fashioned pickled cucumbers and fennel L, G
Wild boar pâté and sauerkraut L
Squeaky cheese and cloudberry jam L, G
Slow-cooked lamb entrecôte, dark cranberry sauce, chanterelle and potato terrine, and oven-baked vegetables L, G
Milk chocolate and cream pudding with macerated berries G, L
€52,10
FINNISH BUFFET
Green salad L, G
Grilled tomatoes L, G
Vegetable and pasta salad G
Pesto-marinated mozzarella L, G, N
Salami, chorizo and chilli-spiced olives L, G
Manchego cheese and fig jam L, G
Kale and beluga lentil salad L, G
Country chicken, sherry sauce, roasted courgette and herb potatoes L, G
Cream cheese brûlée with fresh fruit L, G
€47,70
Our chef and their team will prepare your choice of menu for a minimum of 25 people.
The menus are available until 31 July 2022.
Menu available for groups of more than 10 people until 31.7.2022.
Sokos Hotels Restaurant Sales Service, capital area: Tel. +358 300 870 020 ravintolamyynti@sok.fi
Open Mon-Fri: Room reservations 8 am – 6 pm. Meeting-, restaurant- and group reservations 8 am – 6 pm. Meeting series 9 am – 4 pm. (GMT +2)
Call rates to 0300 numbers: 51 cents per min + local network charge/mobile call charge, to 020 numbers: 8.35 cents per call + 16.69 cents per minute, to 010 numbers: 8.35 cents per call + 12.09 cents per minute.
Original Sokos Hotel Presidentti · Eteläinen Rautatiekatu 4 · 00100 Helsinki